The Dahdaleh Foundation extends sponsorship of Canada House Gallery to 2025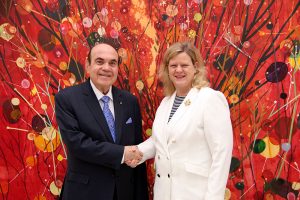 The Dahdaleh Foundation is proud to announce a five year extension of its principal sponsorship of the Canada Gallery, housed in the High Commission of Canada on Trafalgar Square.
The renewed sponsorship builds on an initial commitment by the Foundation, chaired by Victor Phillip Dahdaleh, which began on completion of the 2015 refurbishment of Canada House. The Dahdaleh Foundation's support will now run up to 2025.
Since the Canada Gallery opened in 2015, it has hosted 14 exhibitions, ranging from the inaugural exhibition by Vancouver artist Jeff Wall to the celebrated Andrew Salgado to an inspiring group exhibition of contemporary artists from Nunavut and most recently hosted  Vikky Alexander's first UK exhibition, 'The Spoils of the Park.'
In the three years since its opening, the Canada House Gallery has attracted more than 47,000 visitors and helped to create a new perspective and profile for a wide range of Canadian artists and their art.
HE Mrs. Janice Charette, Canadian High Commissioner to the UK said:
'I would like to extend my sincere thanks to the Dahdaleh Foundation for its continued support of our work here in the UK as we aim to promote the vast array of innovative Canadian visual arts to new audiences through our Canada Gallery programming. This sponsorship continues to help us ensure that the best of Canada reaches our many visitors to our gallery space at an exciting time for Canada's cultural scene.'
Commenting on the principal sponsorship extension agreement Mr Victor Phillip Dahdaleh said:
'The Dahdaleh Foundation has been delighted with the work that has been done through the Canada House Gallery to give talented Canadian artists the opportunity to showcase their work and promote Canadian culture through an array of enviable exhibitions. We are delighted to have extended our support to a full ten years, providing a solid platform for future programming.
'The Gallery's work is at the heart of one of the Foundation's principal philanthropic areas of support – improving relationships and understanding between Canada and the UK.'
-Ends-
Media enquiries:
High Commission of Canada
Caroline Mallan
e: Caroline.mallan@international.gc.ca
t: +44 (0)207 004 6168
Dahdaleh Foundation
Matthew Moth, Madano
e: matthew.moth@madano.com
t: +44 (0)207 593 4000
www.victordahdalehfoundation.com
Notes: The Canada Gallery is free and open to the public Monday-Saturday from 11am-1745. Security screening in place.
The Dahdaleh Foundation is part of the Victor Phillip Dahdaleh Charitable Trust. Its charitable activities are mainly focused in three areas: improving access to education for those in need of support; secondly, improving health and wellness for those in need of support and; thirdly, improving the relationships and understanding between Canada and the UK.

26/06/2018